CHC Wellbeing recently fielded a survey among our clients to quantify how COVID-19 is changing their priorities for wellness, and how they are responding to the pandemic. The uncertainty of 2020 is already creating pressure for 2021 planning, forcing the majority of employers to consider multiple scenarios and strategies. Below are five key takeaways from our research.
Culture Is the First Concern
To date, the pandemic has taken a bigger toll on culture and engagement than it has on health outcomes. Roughly half of survey respondents reported that COVID-19 has negatively impacted their workplace culture and employee engagement, while less than a third reported negative impacts on overall workforce health and total healthcare costs. Our belief is that the latter will emerge as a slower developing consequence of 2020, a year in which emotional and financial stress are soaring, preventive medical care is being delayed or avoided and personal wellness routines are lapsing.
Wellness Is More Important Than Ever
In our study, 9 out of 10 employers said wellness is just as important, or more important than ever amidst the pandemic. As a testament to this statement, only 1 percent of employers said they were postponing biometric screenings at this time, while approximately 20 percent were undecided. For 68 percent of survey respondents, screenings were moving forward as planned, with appropriate precautions for social distancing and sanitation. The same momentum holds true for flu shots, with 65 percent of employers maintaining planned vaccinations. At the same time, more than half of employers are either making, or considering, enhancements to the virtual wellness support they offer to employees.
Engagement and Impact – A Dual Priority
When asked to rank the main value proposition they desire from wellness programming, 51 percent cited driving employee engagement, while nearly half cited either improving clinical metrics or achieving a financial ROI as their main motivation. Comparing these results with earlier research we completed with WELCOA reinforces something CHC has always believed: a winning wellness initiative must drive engagement AND impact.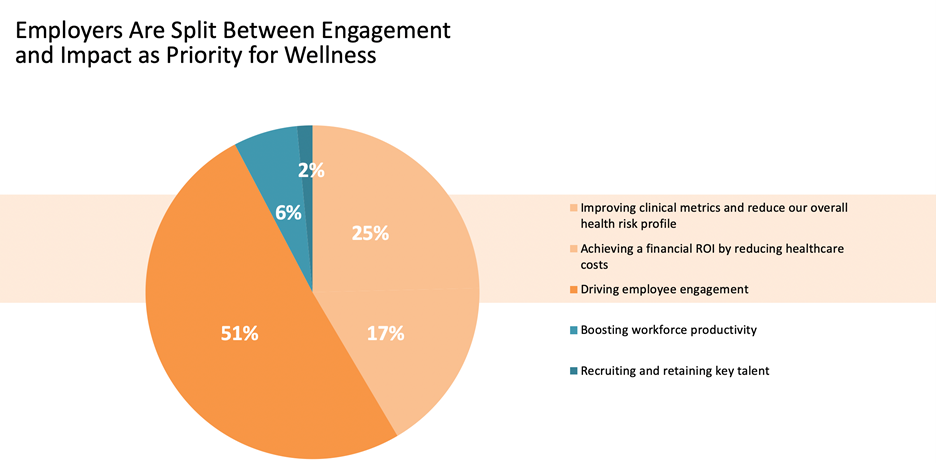 All Eyes On Mental Health
Even before the pandemic, more employers were focused on filling gaps in their mental health and emotional wellbeing offerings. In this study, 76 percent of respondents said mindfulness and mental health was a strategic focus for them in 2021. Financial wellness was the second most commonly cited priority, with 34 percent of employers ranking it in their top three. Rounding out the top five capabilities that employers would like to add, or improve, in the year ahead were: wellness challenges and campaigns (29%), biometric screenings (24%) and self-directed e-learning modules (22%).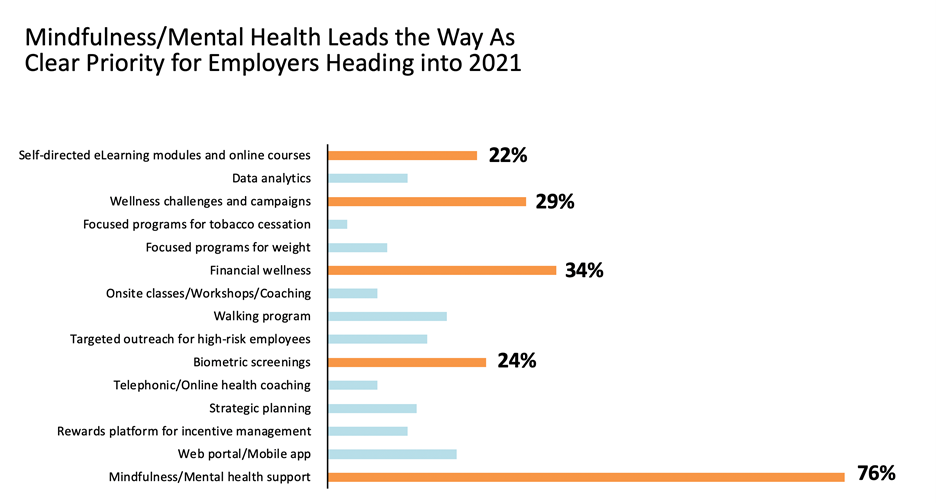 Moving Forward with Mental Health
While mental health is a critical priority, only 1/3 of employers are confident with their current approaches, while more than half are struggling to drive engagement with EAP services that are available to employees. Stress/anxiety is the most pressing concern, with 91 percent of employers ranking it as one of their top three mental health challenges.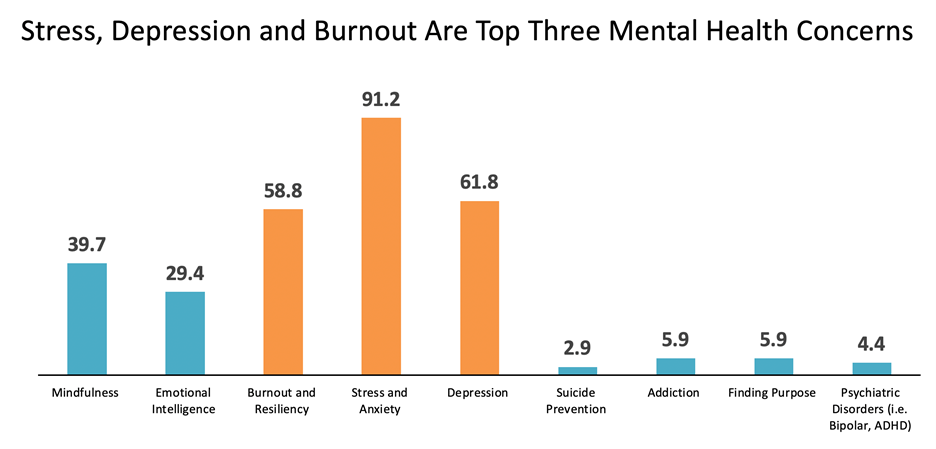 Want to learn more about where wellness is headed in 2021? Stay tuned to the CHC blog or contact us today for a personal consultation.