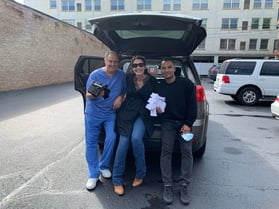 The impact of socks is immeasurable. What may seem like a trivial item to most, socks are lifesaving to those who reside on the streets. Life is difficult without proper foot care. Imagine wearing the same pair of wet socks for two weeks or shoes that fit improperly. Now imagine having to walk long distances in those wet socks to get to basic necessities. This is the constant struggle for those who are unhoused.
They try to maintain their footcare as best as they can, but staying dry and clean is not always possible. We have seen people in tears at the sight of a new pair of fresh, clean socks. A new pair of socks can turn a bad day into a better day.
We are beyond grateful for agencies that partner with us to help provide this always needed item. A huge thank you goes out to The Woolgathering Project! Your giving and sacrifice is very much appreciated, and we wish you continued success with all the other agencies you help.