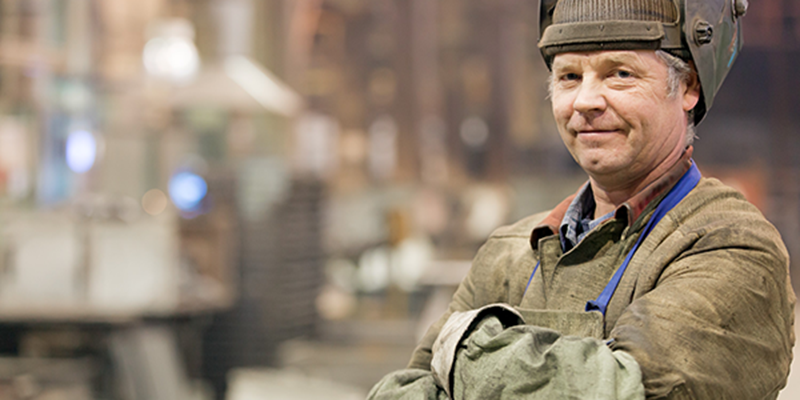 When it comes to wellness programming, it's traditionally tougher to engage and support blue-collar workforces. But these organizations need wellness more than their white-collar counterparts. Statistics show that blue-collar populations have a higher prevalence of obesity, chronic disease and other lifestyle-related wellbeing risks.
We work with a wide variety of blue-collar groups, ranging from auto manufacturers to coal miners. Over the years we've developed significant insight on how to effectively reach blue-collar populations and improve their overall health and wellbeing. Below are twelve tips for improving your approach to a blue-collar workforce.
| | |
| --- | --- |
| | Prioritize privacy. Your blue-collar employees are going to be highly skeptical when you introduce a wellness program. Any time an employer starts talking about personal health data, employees naturally get nervous. Make sure you spend a great deal of energy ensuring your workforce that you are protecting their privacy and creating a safe way for them to get the help they need. |
| | Place a representative onsite during key times. This includes the registration process where you can promote the program and answer questions. For one mid-sized employer, we saw a boost of more than 100 biometric screening participants year-over-year just by making this one change. Another great opportunity for in-person support comes from onsite health coaching following a screening. |
| | Make it convenient by considering the unique needs of a blue-collar workforce. Offer program activities in timeframes that align with your different shifts and crew teams. Make it super easy to engage in wellness at work. Build an obstacle course, or map walking trails around your worksite. Get creative! |
| | Include the spouse. One of our manufacturing clients saw engagement lagging and was able to reverse that trend by also communicating directly with spouses. Involving spouses in the wellness program improved communication and support for employees. |
| | Make technology simple to use. Blue-collar populations can be less inclined to adopt new technologies. If you are offering a wellness portal or other technology-based solutions, make sure you effectively communicate the value and make them user friendly. Take screenshots of the portal and create walk-throughs and demos for participants. Take advantage of opportunities to teach the technology, including at onsite screenings or lunch and learns. Set participants up for quick wins by incenting an activity on the portal that is easy to complete, such as watching a webinar. |
| | Manage your expectations in the first year. Wellness takes time. In the first year of the program, you are building awareness, trust and momentum for wellness. Keep in mind that this is a long-term commitment, especially for blue-collar organizations. Don't give up before you see the fruits of your labor. They will come. |
| | Start with the basics. Early on, your focus should be on laying a solid foundation. This includes employees knowing their numbers, having a relationship with a primary care physician and staying on top of preventive exams. From there, you can go deeper and take participants further on their journey to true potential. |
| | Develop layers of wellness leadership. Get managers involved and find wellness ambassadors throughout the organization who will take on some of the responsibility for promoting the program and nurturing a healthy culture. One way is to establish a healthy competition among your direct managers (ideas include a trophy for the team with the highest participation percentage, or a monthly steps challenge). |
| | Create a celebrity using an employee who has made a significant lifestyle change with the help of your program. For one client, we helped an individual lose 100 pounds. His story inspired many others inside the organization, including the company's president. These types of testimonials can be extremely powerful, especially for blue-collar groups. |
| | Engage the unions. We've seen some employers choose to avoid their union populations because it is hard. Don't shy away from unions. We've partnered with many companies to develop rich incentive programs that successfully motivate a unionized workforce while helping them adjust their wellness programs to comply with union-driven restrictions. At the end of the day, your union groups are likely the employees who need wellness the most. |
| | Have a plan for emotional wellbeing. Blue-collar jobs can take a toll on the emotional wellbeing of workers. Think about a 12-hour shift in a coal mine with no access to daylight or the repetitive grind of an assembly line. Blue-collar workers are less likely to feel comfortable expressing their emotional needs. So, make sure you build in supportive ways to point them toward support, including making clearer connections to an EAP or other existing program. |
| | Align wellness with safety. There is a clear link between safety and wellness. Workers who are less healthy are responsible for more accidents on the job. Educate your leadership on the positive impact wellness can have on safety metrics. Use safety meetings as the perfect time to incorporate wellness messaging and updates. These two areas inside your organization can strengthen each other. |
---
Want to learn more about building a wellness program that effectively supports a blue-collar workforce? Contact us today for a deeper dive into how we approach blue-collar populations.
---